1 : 1 Conversation Prep
A few things must be in place before beginning.
1. Consent must have been provided by your recipient. See the OBTAINING CONSENT section
2. Correctly Populate the Mogli Number - the unique identifier for every record. Ensure that the Mobile and Mogli Number fields are visible on your chosen Page Layout

Click Edit to modify the record. If there is a Mobile number listed, simply click Save. Otherwise, enter a Mobile number, and Save. Our managed workflow or flow will auto-populate the Mogli Number field into this format: +12223334444 ([+][country code][area code][phone number]) using a custom formula.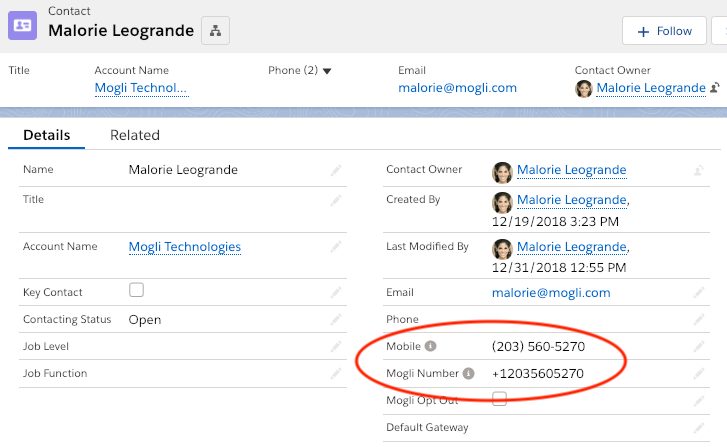 WATCH THIS 60-SECOND MOGLI MINUTE ON HOW THE MOGLI NUMBER WORKS
3. The Mogli Opt Out Checkbox Must Not be Checked. If the Mogli Opt Out box is checked, Conversation View will be unavailable and users will be unable to send messages of any kind:
IMPORTANT: If a recipient texts in the word STOP, or another opt-out keyword, you will not be able to send them a message from Mogli over the Gateway they've opted out of, even if the Mogli Opt Out checkbox is unchecked. Our messaging partner will register the opt out and prevent subsequent message attempts from being delivered. If the Mogli Opt Out checkbox = TRUE, and you attempt to include the recipient as part of a bulk send, they will be excluded in the list of your recipients. We highly recommend building our Opt Out/In Process Builder in our AUTOMATIONS section.
---
Was this article helpful?
---
What's Next